About The Show
A podcast exploring the definition and boundaries of documentary cinema, as well as current releases within the genre.
"A documentary photograph is not a factual photograph" — DOROTHEA LANGE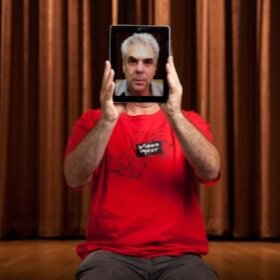 Bart Weiss is an award-winning filmmaker, educator and director/founder of the Dallas VideoFest, which produces DocuFest, Alternative Fictions, the Ernie Kovacas award, the 24 hour video race and the North Texas Universities Film Festival. He produces the TV show "Frame of Mind" on KERA TV. He is an associate professor at the University of Texas at Arlington, where he teachers film and video. He was President and Chair of AIVF and was a video columnist for The Dallas Morning News, and United Features Syndicate. He currently writes for Student Filmmaker and TheaterJones.com. Bart received an MFA in Film Directing from Columbia University.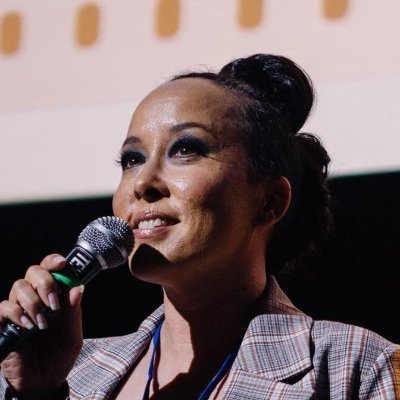 Justina Walford was the founder and festival director of Women Texas Film Festival, which celebrated a successful 5-year run from 2016-2020. Earlier in her career, Walford served as the artistic director of Split.Id Stage Performances in Hollywood. She is also a critically acclaimed writer and producer, including the horror thriller, LADIES OF THE HOUSE (2014) and her two-person play, EVOLUTION OF SUNDAY. She is now the Director of Programming for Oxford Film Festival in Mississippi and the managing editor for FilmsGoneWild.com. She has served on a variety of boards over her career, including Sunday Assembly NYC, Women in Film Dallas, and Asian Film Festival Dallas. And beyond the arts, she is a dog rescuer and volunteers on the steering committee for Coalition for Neighborhood Self Determination in Dallas and is on the board of Community Council of Greater Dallas.
John Wildman is a filmmaker, film publicist, and film journalist and critic. His feature film directorial debut, the grindhouse art-horror thriller THE LADIES OF THE HOUSE was released to critical acclaim in 2015. He was the Senior Publicist for The Film Society of Lincoln Center and FSLC's New York Film Festival, New Directors/New Films, and the Chaplin Award Gala, the Director of Press and Public Relations for the American Film Institute as well as the AFI FEST International Film Festival in Hollywood, the DALLAS International Film Festival and several other film festivals around the country. Wildman currently is a host on The Daily Buzz NPR broadcast on Austin's KUT station and writes a column for Festworks.com entitled "Films Gone Wild." He was formerly a contributor to Film Comment.com and Film Threat and several publications prior to that including Movie City News and Moving Pictures Magazine.com.
PAST HOSTS
Seasons 1-10
Christopher Llewellyn Reed is a film critic, filmmaker, and Professor and Chair of Film & Moving Image at Stevenson University. He is lead film critic at Hammer to Nail, an online magazine devoted to independent cinema; Managing Editor at Film Festival Today; and author of Film Editing: Theory and Practice. From 2014 to 2020, he was host of Dragon Digital Media's Reel Talk with Christopher Llewellyn Reed, which won numerous broadcast accolades, including a Telly and a Communicator Award. Chris received an MFA in Film from New York University.
Seasons 1-6 + & Season 8: Episode 801 + 2/26/21 Bonus
Summre Garber is a producer and programmer of films. Besides producing four short films and directing one about a podcast that helps put people to sleep, Summre was the Director of Operations at Slamdance for four years until 2013 when she became the Co-Captain of the Documentary Programming Committee and has maintained that role ever since. She has also been a Senior Programmer for the Bentonville Film Festival for the last two years, in addition to screening and consulting for a number of other festivals, including AFI and IFFLA. Summre received an MA in Film Theory from San Francisco State University.
Season 7: Episode 701 & Season 10: Episode 1002
Sedika Mojadidi is an award-winning documentary filmmaker who has worked as a producer and camera person for television and film. Her credits include director and cinematographer on two feature documentaries: Motherland Afghanistan (Independent Lens), Facing the Dragon (PBS World Channel/Doc World), as well as television and film projects for ABC News, A&E, Discovery, Guardian Multi-Media, and TLC. She is currently professor of Film and Television at Savannah College of Art and Design.
Season 7: Episode 702
Dr. Betsy A. McLane is a film studies writer, scholar and teacher. She is the author of the book A New History of Documentary Film. She was Executive Director of the International Documentary Association and retains the title of Director Emerita of IDA. She served the Project Director for The American Documentary Showcase, a program of the U. S. Department of State. She is a Past President of the University Film and Video Association, the first woman to be elected to that office, and served for 15 years on the Advisory Board to the Library of Congress National Film Registry selections. Currently, she lives in Southern Oregon and teaches at National University and Southern Oregon University.
Season 7: Episode 703 & Season 10: Episode 1006
Anuradha Rana is an independent filmmaker who has produced and directed award-winning films in India, Ecuador, Japan, South Africa and the USA. Her films, which include counter//balance, Preserves, For the Records, and Ring Laila, focus on themes of identity, representation, and varied perspectives in a global environment. She is currently in production on Language of Opportunity, a feature length documentary about cultural identity and immigrant aspirations amongst Indian families, and in post-production on Snowdogs (wt) that follows three women mushers in the Upper-Midwest. Anuradha is the program coordinator for the Diverse Voices in Doc Fellowship organized by Kartemquin Films and Community Film Workshop of Chicago. She was named one of Chicago Film's 50 Screen Gems of 2017 by Newcity Magazine and one of four fellows for the Center for Asian Arts and Media's 2019 Fellowship. She is an Assistant Professor and Chair of the Documentary Program at the School of Cinematic Arts at DePaul University.
Season 7: Episode 704 & Season 10: Episode 1003
Jennifer Proctor is an Associate Professor of Journalism and Screen Studies at University of Michigan-Dearborn and co-founder and director of EDIT Media (Equity, Diversity, and Inclusion in Teaching Media). EDIT Media is a faculty-driven national initiative dedicated to researching, developing, and educating about best practices in inclusive teaching in college-level media programs. Proctor is also a filmmaker and media artist whose internationally recognized, award-winning found footage work examines the history of experimental film, Hollywood tropes, and the representation of women in cinema.
Season 7: Episode 705
Sonali Gulati is an independent filmmaker, a feminist, grass-roots queer activist, and an educator. She teaches at Virginia Commonwealth University's School of the Arts in the Department of Photography & Film. She has an MFA in Film & Media Arts from Temple University and a BA in Critical Social Thought from Mount Holyoke College. Gulati grew up in New Delhi and has made several short films and a feature-length documentary that have screened at over four hundred film festivals worldwide. Gulati was awarded the Guggenheim Fellowship and her work has been supported by the Creative Capital Foundation, the Third Wave Foundation, World Studio Foundation, the Virginia Museum of Fine Arts Fellowship, amongst several others.
Season 7: Episode 706 & Season 8: Episode 803
Patricia Aufderheide is University Professor of Communication Studies in the School of Communication at American University in Washington, D.C. She founded the School's Center for Media & Social Impact, where she continues as Senior Research Fellow. She is also affiliate faculty in the School of International Service and the History department at American University, and a member of the Film and Media Arts division in the School of Communication. Her books include Reclaiming Fair Use: How to Put Balance Back in Copyright, with Peter Jaszi; Documentary: A Very Short Introduction, The Daily Planet, and Communications Policy in the Public Interest. She has been a Fulbright Research Fellow twice, in Brazil (1994-5) and Australia (2017). She is also a John Simon Guggenheim fellow (1994) and has served as a juror at the Sundance Film Festival among others.
Season 8: Episode 802
Mirella Martinelli is an award-winning Brazilian film director, screenwriter, producer and editor, who now lives in Florida, where she's known as Mica. Her short film Oppression won the Special Prize of the Jury at the Tampere International Short Film Festival. Her feature-length documentary, Land of the Sea, was funded by the Rockefeller, McArthur and Lampadia Foundations. Mica taught film at college level in Brazil and in the United States at Columbia College Chicago and the University of Tampa. Mirella's new documentary, Frenemies, received support from the Puffin Foundation and the John Ringling Towers Award. Frenemies tells the story of the close yet conflicted relationship between the United States and Cuba from 1950-2019. How much longer can this small Caribbean island survive the longest embargo in history?
Season 8: Episode 804 & Season 10: Episode 1001
Leslie Combemale, who writes about women in film and artists behind the scenes and below the line at Cinema Siren, is a movie lover and aficionado who aspires to get more people back into the beautiful alternate worlds offered in dark movie houses across the country. She has also been the owner of ArtInsights Gallery of Film and Contemporary Art for over twenty five years, promoting artists who are the unsung heroes essential to the finished look of films and their campaigns. She interviews actors, directors, and production artists from all over the world, and writes about film for sites like AWFJ.org, and thecredits.org. She is often invited to present at conventions such as the San Diego Comic-Con, where she has been a panelist and host for "The Art of the Hollywood Movie Poster," "Classic Film History," Disney & Harry Potter Fandom discussions, and now produces a panel at SDCC called "Women Rocking Hollywood," going into its fifth year.
Season 8: Episode 805
Roxana Hadadi is a pop culture writer and film critic. Her work can be found at Pajiba, The A.V. Club, Chesapeake Family, Bright Wall/Dark Room and other publications. She is a member of the Washington DC Area Film Critics Association, the Online Film Critics Society, and the Alliance of Women Film Journalists, and is a Tomatometer-approved critic on Rotten Tomatoes. She holds an MA in literature and lives outside Baltimore, MD. You can follow her on Twitter at @roxana_hadadi.
Season 8: Episode 806
Elizabeth Coffman is a documentary filmmaker and writer from Chicago, IL. Her film Flannery (co-directed with Mark Bosco) was awarded the first Library of Congress/Ken Burns/Lavine prize (2019) for documentary. She has co-produced films with partner Ted Hardin: One More Mile: A Dialogue on Nation-Building, featuring writers Aleksandar Hemon and Joe Sacco, and Veins in the Gulf, featuring poet Martha Serpas. She teaches at Loyola University Chicago.
Season 9: Episode 901
Danielle Solzman somehow became a Chicago-based film critic despite moving to Chicago to immerse herself in the world of improv and sketch comedy. Her work can be found on Solzy at the Movies and other outlets. A Tomatometer-certified critic, Solzman is a member of the Critics Choice Association, Galeca: The Society of LGBTQ Entertainment Critics, Alliance of Women Film Journalists, Online Association of Female Film Critics, Online Film Critics Society, and the Online Film and Television Association. After enrolling at Bradley University and transferring to Northern Kentucky University, Solzman earned a BA in Public Relations. She eventually read a handful of political books while immersing herself in the world of Marvel and DC on the way to an MA in Media Communications at Webster University, completed entirely online almost a decade before remote learning became the thing to do in 2020. She is on Twitter at @DanielleSATM.
Season 9: Episode 902
Jessica Baxter has written and directed several award-winning short films, including the horror-comedy, Snow Day, Bloody Snow Day. She wrote for Film Threat for the better part of a decade and spent 10 years as the Seattle City Editor for Not For Tourists. She also has bylines at Film International and Screenrant. She currently reviews films for Hammer to Nail. Baxter joined the podcast world in 2019 with Paid in Puke, where she discusses feminocentric narrative films with her Seattle-based cohorts, Amy Green and Cristina Barr. Baxter resides in Seattle, WA with her spouse, 2 kids, and too many pets.
Season 9: Episode 903
Lisa Sanchelo is the creator and host of the I Love That Movie! podcast. As she describes it: "This podcast is for movie lovers. Each week I have a guest, and that guest and I discuss a movie that they love, one that they are obsessed with, that they grew up with. We talk about the plot, director, and actors, but we also discuss my guest's deep connection to the movie." She also writes: "I love film and I believe that the memories, connections, and meaning we draw from these works of art have value. I want to hear your story about how a film has impacted your life, your career, or even just your love of the art of filmmaking."
Season 9: Episode 904
Sandie Angulo Chen is a film critic, entertainment reporter, and book reviewer. She's written professionally about movies, books, and pop culture for more than 20 years, contributing to outlets such as Common Sense Media, where she's the senior reviewer, The Washington Post, Kirkus Reviews, EW.com, Moviefone, and Variety. She's a proud member of the Washington DC Area Film Critics Association, the Alliance of Women Film Journalists, and the nonprofit advocacy group We Need Diverse Books. Sandie lives in Silver Spring, MD, with her husband and three children.
Season 9: Episode 905
Debra Zimmerman is the Executive Director of Women Make Movies (WMM), a NY non-profit social enterprise that has been supporting women filmmakers with distribution and production assistance of their independent films since 1972. For 16 years, films and filmmakers from WMM's programs have won or been nominated for Academy Awards, including Citizenfour, Saving Face, Strong Island and Free Solo. Zimmerman is in great demand around the world as a speaker, panelist and mentor and as an expert in documentary film financing and marketing. She has been on the juries of films festivals around the world including IDFA, the International Documentary Film Festival of Amsterdam, the Abu Dhabi Film Festival and the Cartagena International Film Festival. She recently gave workshops and mentored filmmakers at Doc Lab in Krakow, E-Docs in Ecuador, and Docs Lisboa in Portugal. She is the author of "Film as Activism" chapter in the Routledge Companion to Cinema and Gender textbook and has taught at Rutgers University. She is the recipient of numerous awards, including NY Women in Film and Television's Changemaker Award and Hot Doc's Doc Mogul Award, given to those who have made an essential contribution to the creative vitality of the documentary industry, both in his or her home country and abroad.
Season 9: Episode 906
Hannah Buchdahl is a storyteller at heart. She spent the bulk of her early career as a writer and producer in broadcast news and entertainment, tackling subjects from politics and war to health, humor and celebrity (and everything in between). In recent years, she's applied her storytelling and communication skills to the evolving world of content strategy. Hannah is also the co-founder of the movie review site chickflix.net, a labor of love that's been around more than a decade. Chickflix serves up quick, easy-to-digest reviews on all sorts of movies - documentaries, blockbusters, indies. Hannah tends to view movies through a "mainstream" lens (thus, her alter-ego "Mainstream Chick"), but she'll champion just about any genre, as long as it has good characters, good acting, and a decent plot. Or at least one of the above. Since 2015, she's co-hosted a weekly podcast called "The Cinema Clash" that airs weekends on radiostpete.com and is available 'on demand' on iTunes and elsewhere. Hannah is a proud member of the Washington DC Area Film Critics Association (WAFCA) and the Online Association of Female Film Critics (OAFFC).
Season 10: Episode 1004
Dr. Shilyh Warren is Associate Professor of film and feminist studies in the School of Arts & Humanities at UT Dallas. She is the author of Subject to Reality: Women in Documentary (U of Illinois P, 2009), and a number of essays on documentary, feminism, and women's cinema. She's curated programs featuring women's documentary and experimental filmmaking in North Carolina, New York, and Dallas, and she often serves on the jury of the Dallas VideoFest.
Season 10: Episode 1005
Inkoo Kang is a TV Critic at The Hollywood Reporter and the host of the All About Almodovar podcast. Previously, she was a staff writer at Slate, the Chief TV Critic at MTV News, and TV Critic at The Village Voice. She has written widely about television, movies, and representation issues pertaining to race and gender.